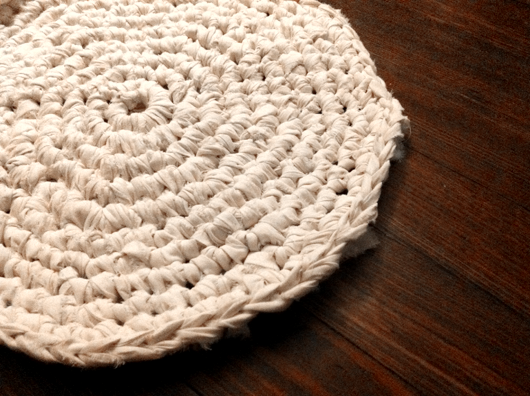 While we're waiting, waiting, waiting for Baby Girl to arrive, I've been doing what is normal for anyone who is mega-preggers – taking on huge projects that are made infinitely more difficult by my huge belly and constant body pains. That's normal, right? Right?!
So, my current obsession and project in the works: crocheted rag rugs! We've been in the process of fixing up the kids' room – which I hope to post about soon – and one of the rugs we have in their room is just too big, in my opinion. So, of course, I decided to make a new one. You know, before the baby comes. Ha!
I was trolling Ravelry (if you are a knitter or crocheter and aren't on Ravelry, do yourself a favor and check it out now!) and came across this amazing crocheted Calico Rag Rug by Gillian Hamilton which inspired me to give it a shot. I did a little more research and also came across King Soleil which has a whole page dedicated to her process of creating rag rugs and tips and tricks she's learned through her experience. She mainly uses upcycled materials, which really appeals to me since the amount of material it takes to make one rug can get pricey. I'm thinking a thrift store run is in order!
However, this current one that I'm working on (pictured above) is made from muslin that I purchased at the local fabric store. Basically all you have to do is find any sort of woven material you want, cut it into long strips and start crocheting in a circle and, Voila! you have a rug!
So far my rug is about 2 feet in diameter and there are few things I've learned:
l. Crocheting on a large scale is a workout. Think less wrist movement and more entire arm movement. Multiple times I've had to ask Andrew, "Is it hot in here?" Nope, just doing my crochet workout.
2. Working with such large pieces of fabric yarn requires the largest crochet hook I've ever seen. It's obscenely large and slightly embarrassing. The hook I'm using for this particular rug is a 15mm – Q hook.
3. I'm a pretty experienced crocheter and I still had some problems with the rug getting wonky and wavy. I'm still not exactly sure why this was happening but with some minor adjusting I was able to straighten it out and it seems to be back on track.
I will post more pictures when the rug is done, which hopefully will be sooner than later.
-c.
Tags:
Crafts
,
Crochet
,
Decor
,
Fiber
,
Home Goods
,
Living/Working Space