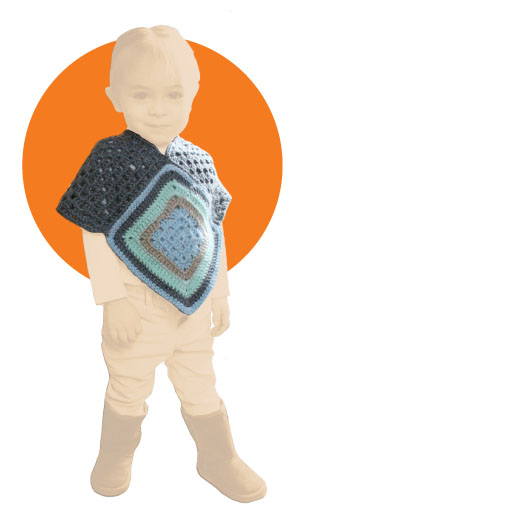 As promised, I whipped up this tutorial for the ponchos I posted about a couple weeks ago. This is my first tutorial, so bear with me. Writing tutorials is hard work. Especially when I could only work on it for mere minutes at a time. I'm hoping that I don't confuse anyone with my directions.
Granny Square Poncho Tutorial
Materials: Yarn, Crochet hook, embroidery needle and safety pins
Step 1: Crochet four Granny Squares of equal size. If you aren't familiar with how a Granny Square is made, read Purl Bee's tutorial on the Classic Granny Square Pattern.
The size of the poncho is going to depend on the size Granny Square you make. The diagonal measurement of the square equals the length of the poncho from neck opening to the bottom of the poncho point, like so: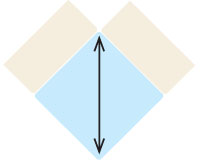 Step 2: When you've completed your squares (i'm sure they look lovely), arrange the squares according to this diagram and attach edges together using safety pins.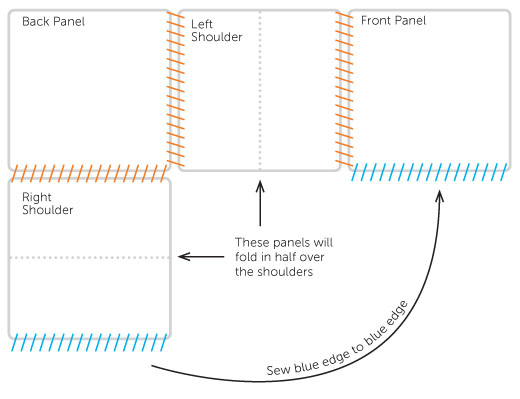 Step 3: Using an embroidery needle and yarn, begin sewing together sides. Remove safety pins as you go.
(Optional) Step 4: To create a smaller neck opening or to build up a little bit of a cowl neckline: Single crochet around the neck opening to the desired height. Done!
If you have any questions, feel free to comment of email me directly. I'm not sure such a simple project warranted such a lengthy explanation, but oh well! You're welcome! :)
I also spent some minutes putting together a printable version of this tutorial, you know, just in case you're like me and have binders full of project ideas that I never get around to doing. (Though, I really hope you try this one and tell me how it goes. Oh! And send pictures of your creations too!)
Download the Granny Square Poncho Tutorial here.
Enjoy!
– c.
P.S. Just one last thing before I let you get crafting, this pattern is for personal use only. Please don't sell this pattern or any project made from this pattern. Feel free to share this and make as many as you please for everyone you know, BUT please please don't sell them.  Thank you!
Tags:
Crafts
,
Crochet
,
Sewing
,
Tutorials
,
Wearables