As Crystal mentioned in the previous post, the basic idea was adapted from the "Culla Belly" design. The main difference is the overall height of the co-sleeper. If you notice in the picture of the "Culla Belly" co-sleeper, the mattress it's designed for is exceptionally thin. Ours is a "normal" mattress and is much thicker so the sides of the co-sleeper had to be a lot taller.
In essence, it's a three-sided box with a "shelf" halfway up where the baby lies. The whole thing is attached to a frame underneath that extends far under the mattress keeping it in place. It's quite secure but just for added strength we bolted it to the pallets that our bed sits on.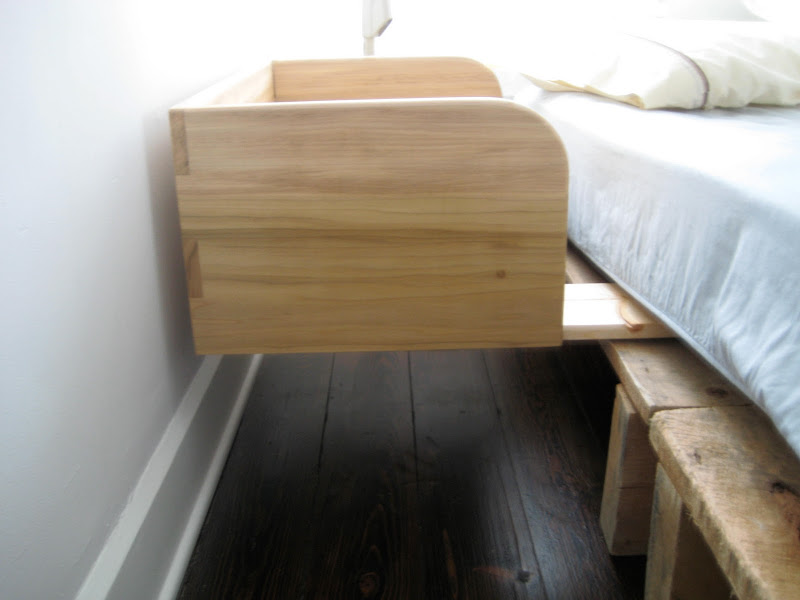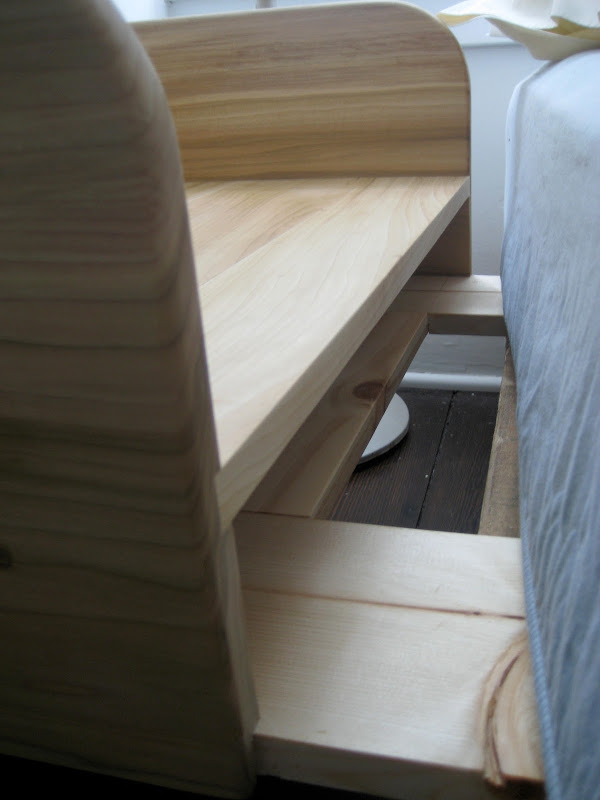 I did a lot of research on the toxicity of different types of wood and decided to use Poplar. Pretty much all of the basic wood types you would find at a lumber yard are perfectly safe, with the most common irritant being the dust produced from cutting and sanding. I'm also using Poplar for the crib, which is currently under construction. It's a nice, easy to find, and not too expensive hardwood.
A lot of cribs these days are made out of different types of plywood and even MDF, which contain all sorts of industrial glues and even formaldehyde, so I knew I wanted to avoid those at all cost.
The next consideration was how to finish the co-sleeper. I decided to make my own finish instead of worrying about paints and stains and any kind of hard finish. To make the finish I heated up mineral oil – which is used on cutting boards and wooden utensils and is essentially unscented baby oil – and added some fragrance-free beeswax until it melted. (I bought the beeswax at A.I. Root here in town. Did you know that Medina, OH is The Bee Capital of the World? Well, you do now.) Then you let it cool and you rub on the paste that results (below). It's completely food-safe and non-toxic.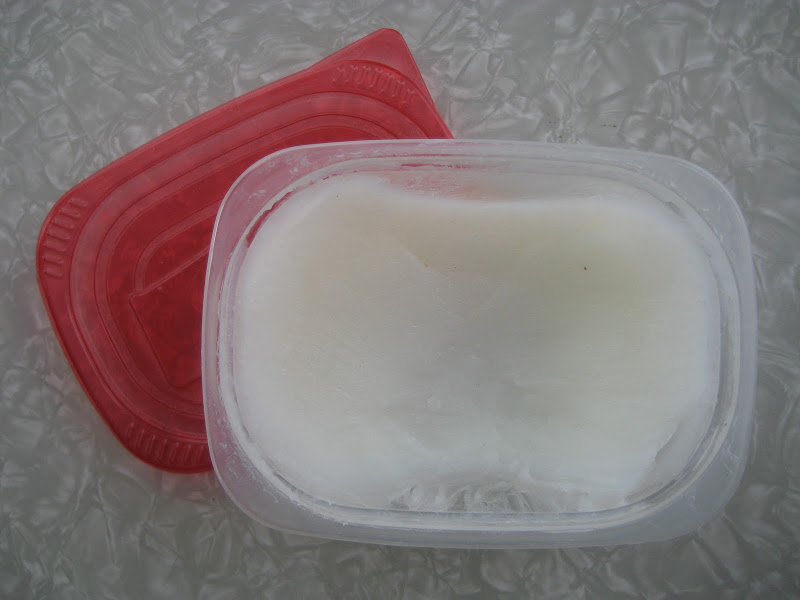 My only worry in all of this is that Crystal's not going to want to give up her new bedside space. (She's currently using the co-sleeper as a side table and keeps her contacts, alarm clock, books, glasses, yarn, water bottle, tissues, hair ties, crocheting/knitting needles, and whatever else she manages to take to bed with her.)
-a.