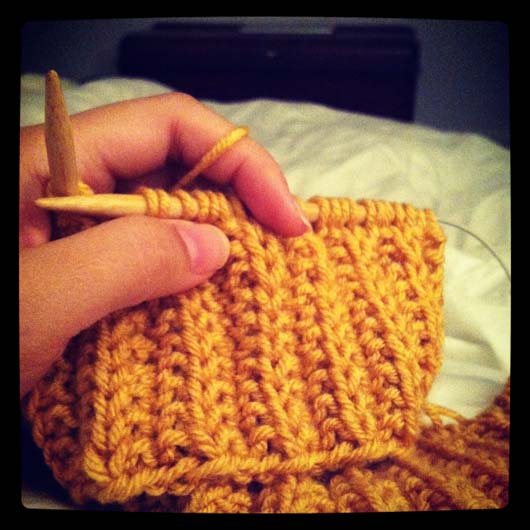 This pregnancy has flown by. Only 6.5 weeks to go and I'm feeling the restlessness that comes with the last home stretch.
It's a bit late in the pregnancy to be in the nesting phase, but having a 2-year-old, a new job, and a lingering illness to contend with has pushed us into month 8 with much still left to do. There is a reason they say you should get as much done as possible in the 2nd trimester because, dang, is it hard to do much with this huge belly.
When I was pregnant with Q, we had all the time in the world to just… do stuff. I was crafting up a storm. Andrew was building and baking awesome things. It's taken me the entire pregnancy to knit one stinkin' baby blanket (pictured above – back when I first started the darn thing months ago!) and the jury's still out on whether it will be done by the time baby girl comes. I started a baby sweater, but I've given up any hope that particular project will get done.
Luckily, Andrew is super awesome and has been able to take the reins on many of the things on our to-do list. I just make lists at this point. Make lists and grow a baby. That's my to-do list.
But still, however long our to-do list is, it feels good to have our little family getting it all done together. Hoping to have more photos of our progress in the near future!
-c.
Tags:
Baby
,
Crafts
,
Family
,
Fiber
,
Knitting
,
Self