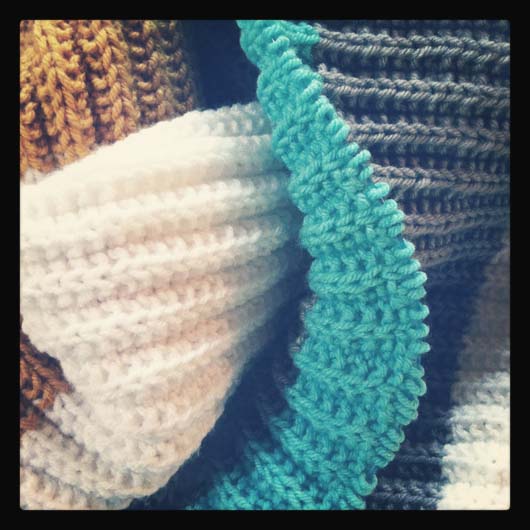 Looking at my post from the other day, I was slightly depressed by not having any new photos to post (the one I posted was old and already posted to my Instagram account…boooring.) Since getting an iPhone I've been extra lazy about breaking out the real camera to take photos. Bad technology! Bad, bad! Ha!
Anyhoo, this post is an update on the baby blanket that I've been working on for the past 3 months or so. I found The Forever Baby Blanket pattern on one of my favorite crafting/fiber/blog sites, The Purl Bee.  I just wanted something super simple that I could zone out while doing or just sit and not have to be 100% focused on some elaborate pattern. I'm also relatively new to knitting so I didn't want to be overwhelmed when I knew that the time I had to dedicate to crafting was going to be limited.
This blanket turned out to be just what I needed. The pattern itself is really simple, but not boring. It's a rib knit so it's thick and squishy with a lot of texture. My color inspiration came from these blocks (minus the gold + a lighter grey):
I'm still on the fence as to whether I'm going to use black. I bought some with the intention of using it, but when I put all the colors together it seemed too bold to me. Incorporating the lighter grey helps, but we'll see. I'm winging it for the time being.
I didn't use any fancy yarns (which I'm slightly regretting) but my reasoning was that 1.) I wanted to see if I was committed enough to finish an entire blanket and 2.) I was unsure if my skills justified using something a bit pricier. However, part of me is glad that I didn't splurge on this particular project. I did mess up a bunch in the beginning when I was trying to catch my knitting stride so there are definitely some imperfections. I would have been super pissed if I bought nice yarn and wasn't completely happy with how it turned out. But now that I feel a lot more confident in my skills, I think for my future projects I won't' feel intimidated spending a little more on better quality materials.
I'm hoping one day to have some of Andrew's parents Alpaca wool processed and have someone spin it into yarn for me. Now THAT, my friends, would be super fancy.
-c.
Tags:
Baby
,
Crafts
,
Fiber
,
Inspiration
,
Knitting