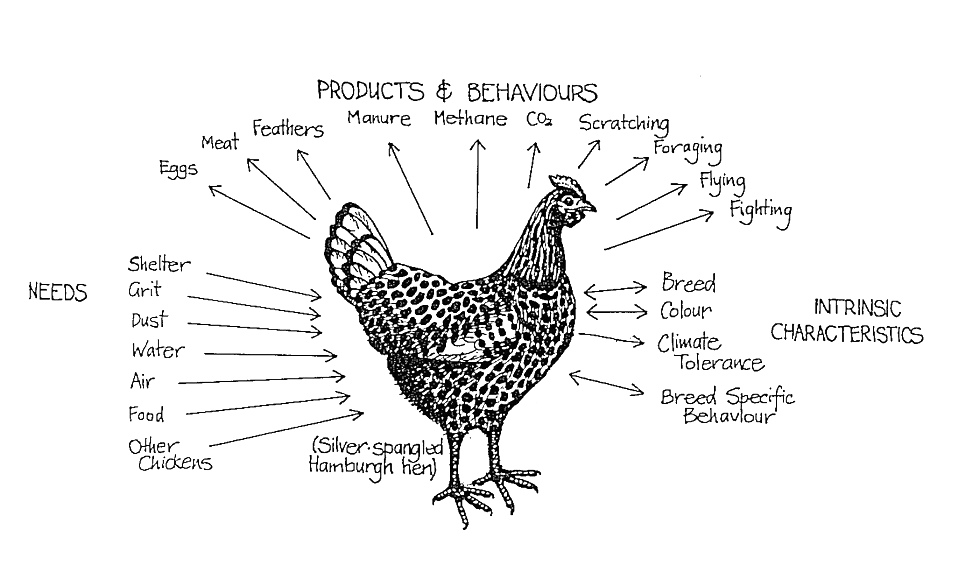 The Design Elements of a Chicken. Illustration from "Introduction to Permaculture" by Bill Mollison.
I first learned about Permaculture when Andrew was living out west at Bohdi Creek Farm. And from the moment he started describing the things he was learning while living there, I knew it was something life-changing. Who knew that, what would turn out to be an unplanned three month stint for Andrew in the Pacific NW, would end up being so influential on our lives?
If you are unfamiliar with Permaculture, here is the general synopsis from Wikipedia:
Permaculture is a branch of ecological design, ecological engineering, and environmental design that develops sustainable architecture and self-maintained agricultural systems modeled from natural ecosystems.
Andrew and I have talked about the general principles of Permaculture before and know some aspects of it from his time out west and the modest amount of research we've done, but something I read recently was sort of an "ah-ha" moment for me. It made things clear as to why the whole idea of Permaculture really speaks to me, and it's basically this: Permaculture is design. (more…)