Homestead: The Year-Long First Step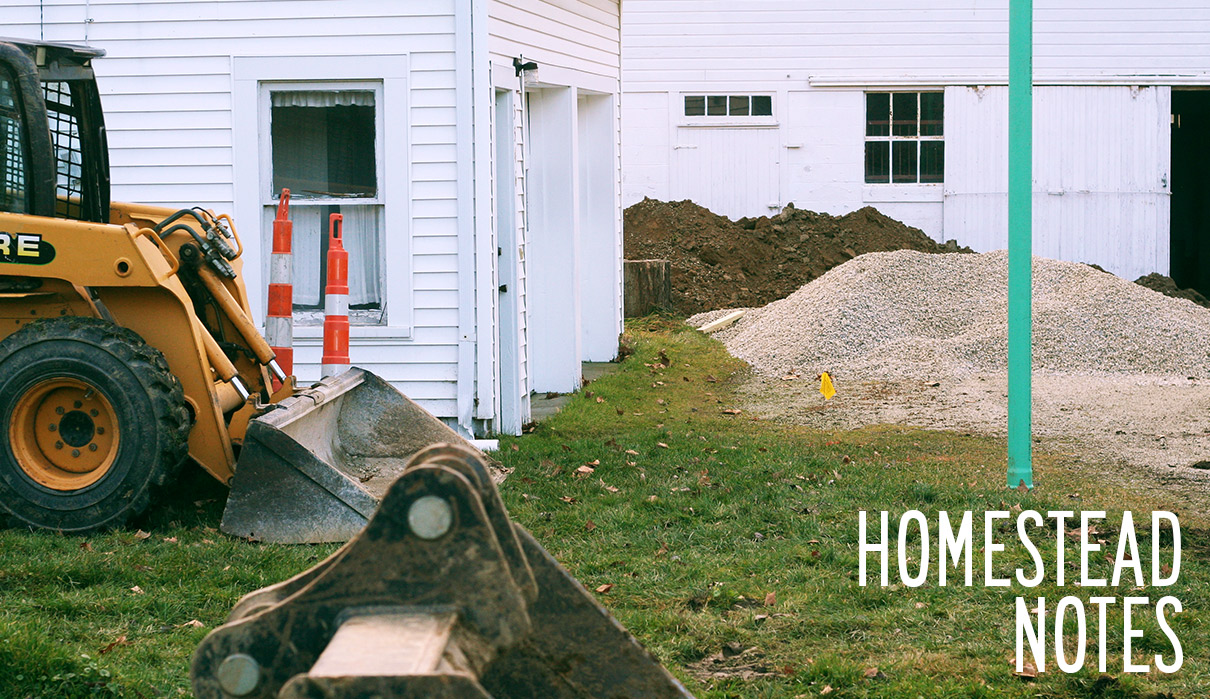 We've finally picked up some momentum on the barn conversion! A few weeks ago, we were finally able to tie the farmhouse and the detached garage/office space into the sewer. This was one of the main hurdles to parcelling off the property and we've hurdled that Matrix-style – jump and hover mid-air for what feels like eternity. That was us trying to get this thing done. The longest hurdle in history. That analogy was a stretch. It's early. I'm still waking up.
So we're all on the same page, this is the building process that we're currently entrenched in:
Parcel the property
Renovation plans/drawings
Contract with a builder
Get a freaking loan and take on the largest amount of debt we've ever had in our lives. Yeah! But it's worth it, right? Right? I kid, it's totally going to be worth it.
Steps 1 and 2 can be done simultaneously, but Steps 1 through 3 have to be done before we can even go to the bank for a loan, but luckily we're making progress!
Step 1: Parcel the Property
This step involves a few other steps such as tying the existing structures into the sewer system, having a survey done to mark out the different parcels, having a deed drawn up for the transfer of land ownership, and finally the application to split the property. All-in-all it's taken us about a year to get this first step done. It's been an exercise in perseverance and I probably sprouted more than a few extra grey hairs because of it, but we're almost there. (Trying to keep this positive, people!)
I've probably mentioned this before, but I'll reiterate since it's been awhile. We needed to tie into the sewers because in order to parcel any property in our township, it needs to be brought up to code, and code requires sewer tie-ins if they are available. And the sewer just happens to end right in front of our house, of course. One bit of luck that we had was that we were fully expecting to pay $4500 per sewer tie in – and mind you, we will have three tie-ins between the two parcels we're creating. When Andrew went, with checkbook in hand, to get the permit for the sewer construction to begin – after transferring $10,000 from our savings into our checking account (which required the mental equivalent of deep breathing into a paper bag) – it turned out we only had to pay $50 each for the two existing structures! In all this madness we've dealt with so far, it's been a welcome stroke of luck.
It took quite a bit of searching to find a contractor to do the sewers. Andrew called at least ten from the approved list we got from the Department of Sanitary Engineers and we got one call back. One ding dang call back. So much for price comparisons! Then one day, we noticed a house across the street was tying into the sewer so we got their contact info and asked for a quote on our job. We ended up going with them in the end, but it still took a couple months from first conversation to actually breaking ground. So, moral of the story, keep your eyes open for opportunities and just go talk to people.
When they finally came out to do the job, I was excited to be making progress, the kids were excited by the huge machines in our yard, Andrew was excited about not having to hear "The voice mailbox you are trying to access is full." for every contractor he tried calling – it was like Christmas! It was starting to feel real. Less talking about it, and more huge holes in the yard.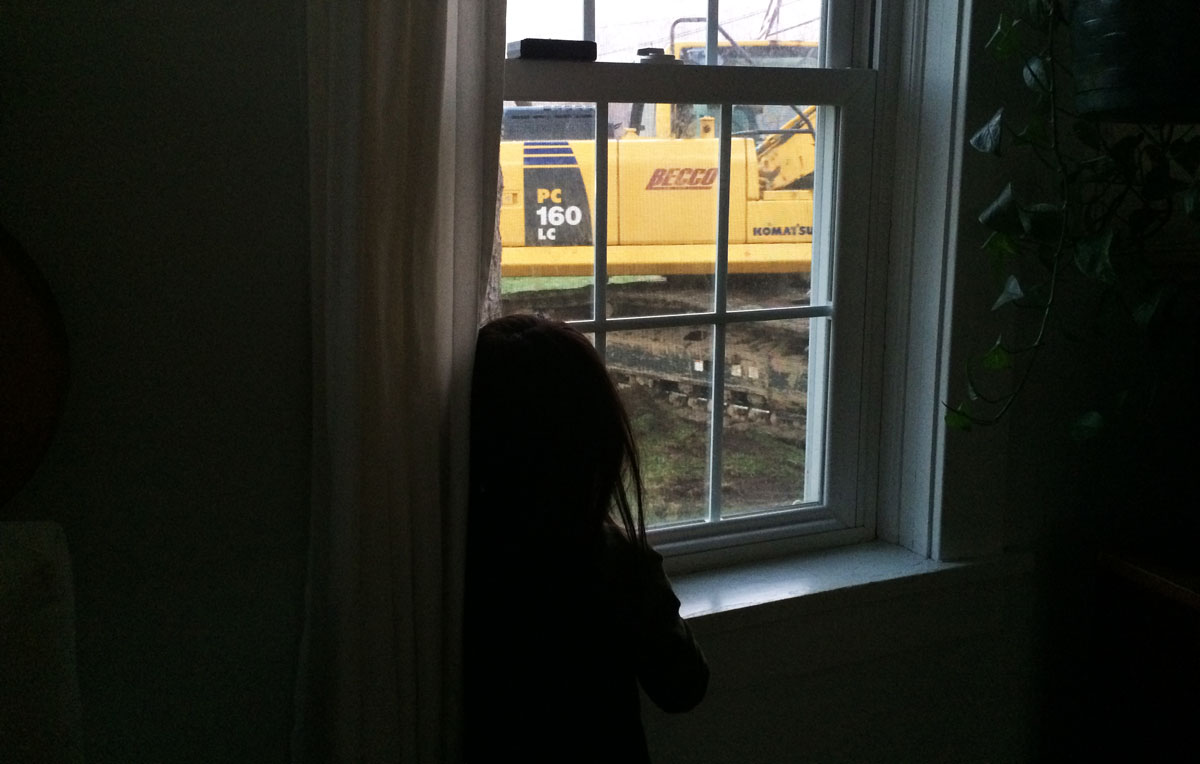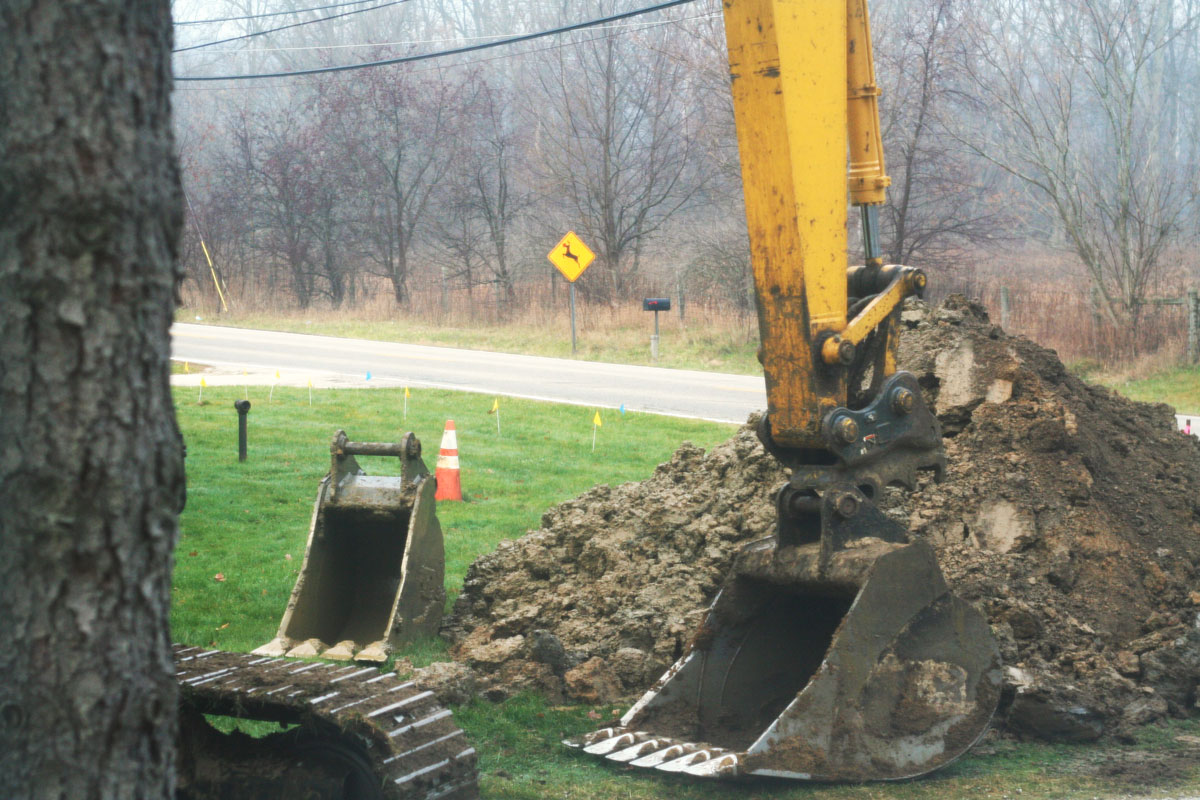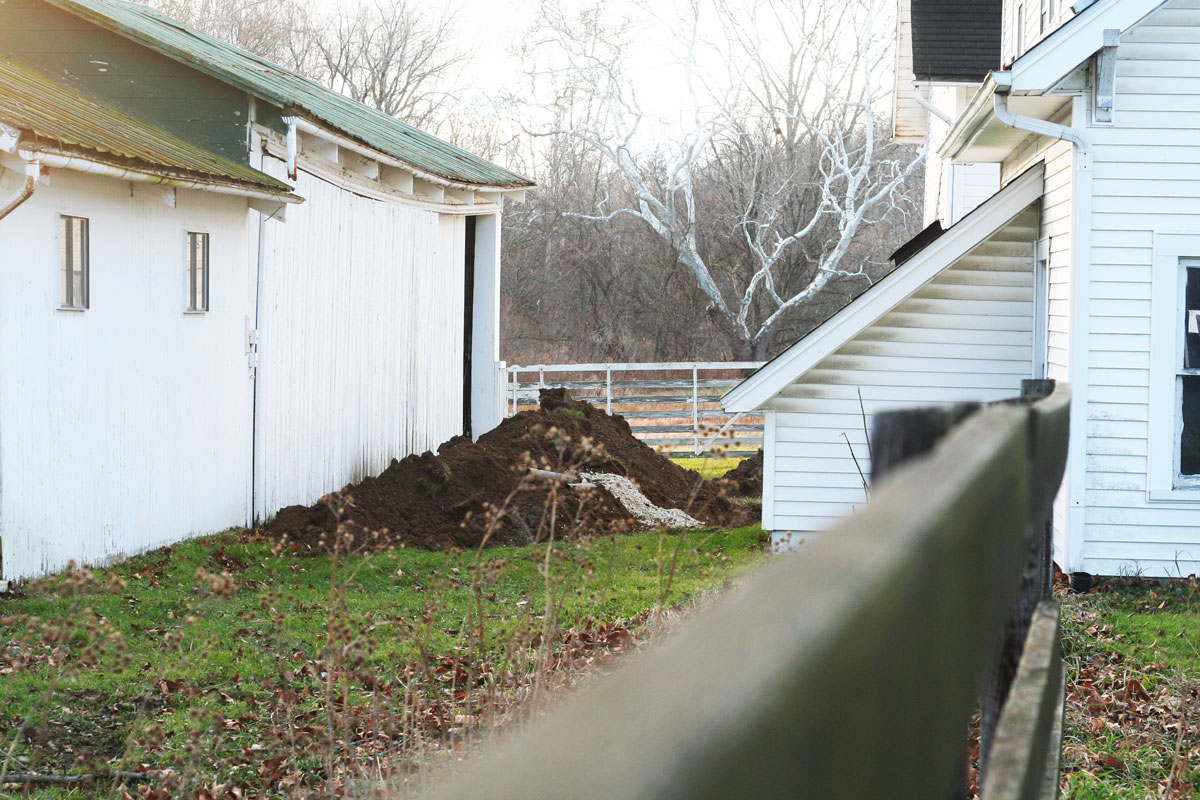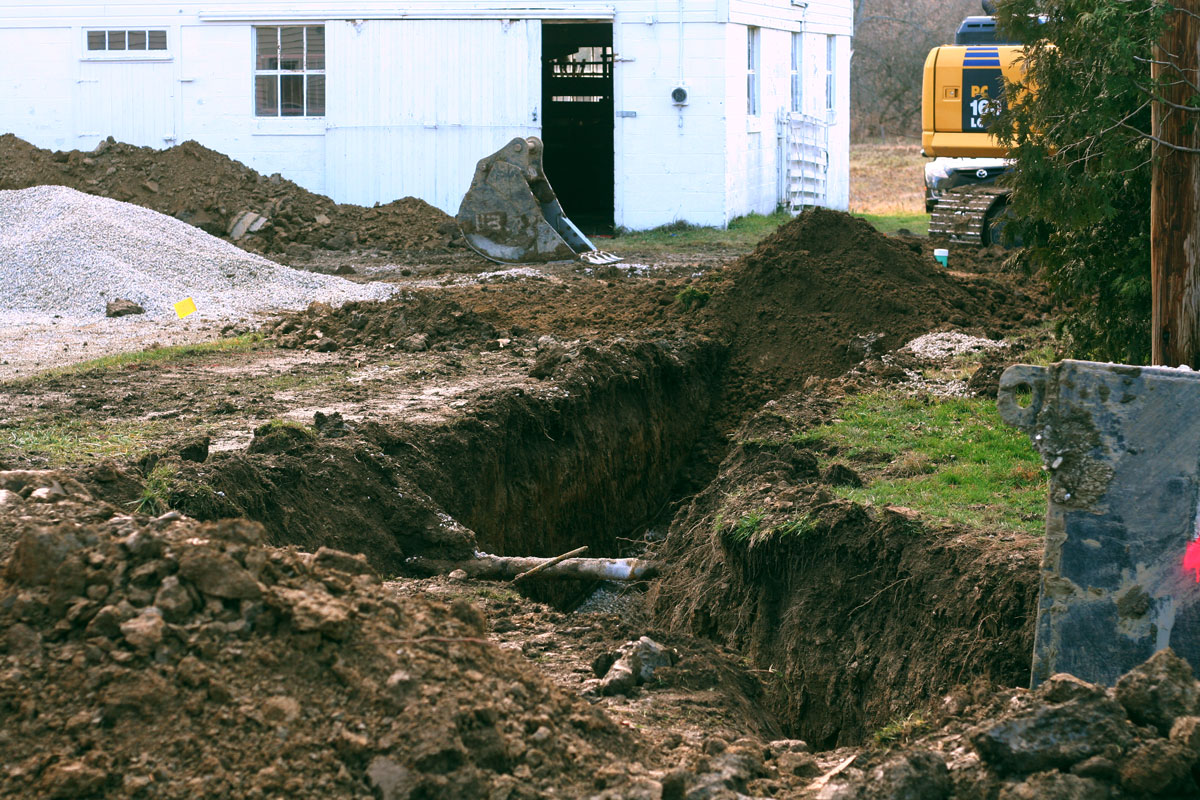 Of course, no project is without its hiccups. On the first day, after tearing up half our yard, they finished tying the farmhouse into the sewer and came up to the house to have us run the water to make sure everything was working as expected. I turn on the water and the guy comes back about 10 minutes later and asks, "did you turn on the water?" Not good, my friend. It was a bit of an uh-oh moment.
After some inspection, turns out that we have two lines running out of our house. One that handles all the drains with the exception of our upstairs bathroom. The other line is for just the bathroom and this is the line they tied into. This is what happens with super old houses. There are no house plans, no records of previous work, no one knows what lines flow where. An old house is like a Pandora's box when it comes to construction/renovations. You open it up and don't know what insanity is going to unfold. A total cluster. So we ended up needing a plumber to come out to connect the two lines, which was a small ordeal in itself. The option was either connect the two lines or redo all the sewer work they had already done. Oy vey.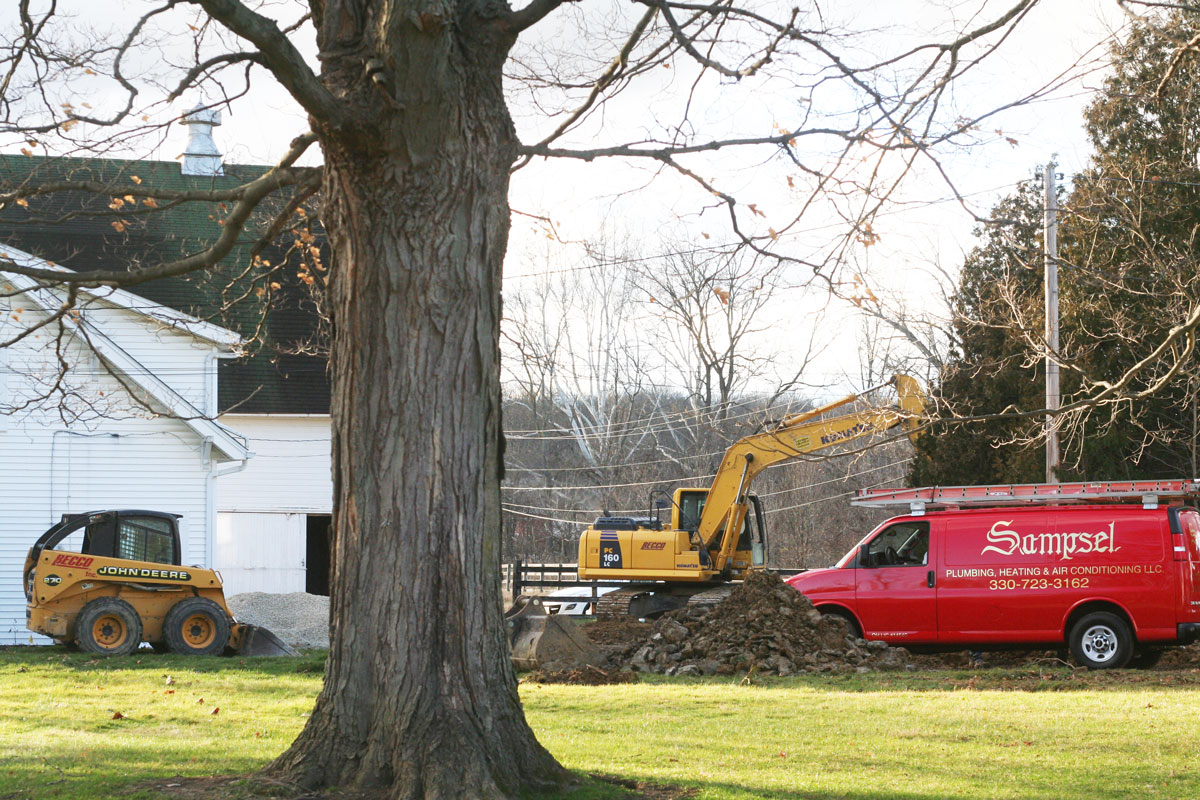 It all got sorted and it was fine in the end. After tying both structures into the sewer, we had to abandon our septic tanks which involved emptying them out, caving one in – basically smashing it from the outside with a huge back hoe – then the other, which was located directly under the entrance to the pole barn, had to be filled with concrete. Another exciting endeavor for the kids to watch.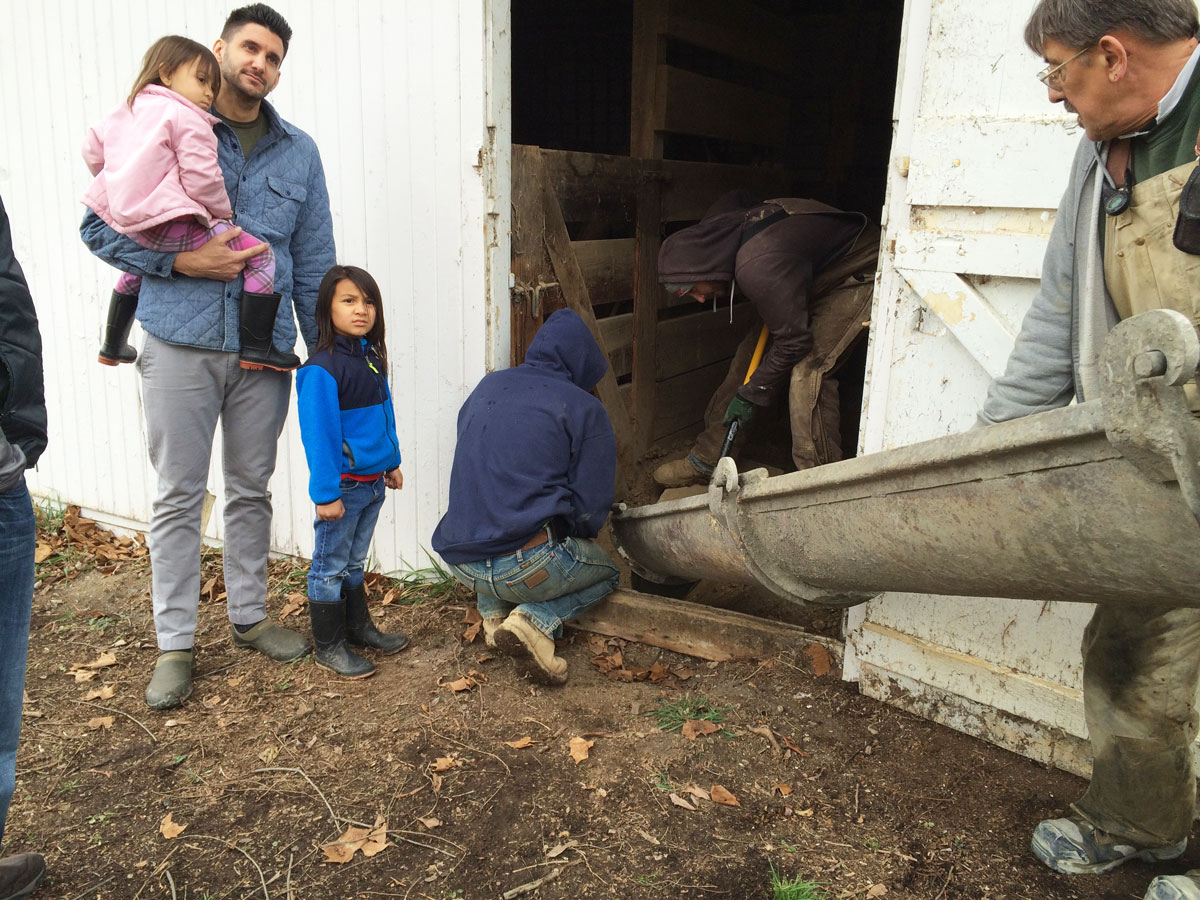 After the sewers were done and we went back to the Department of Sanitary Engineers, they said – "We didn't know this was for a lot split. The sewer line has to be at least 5 feet away from the property line, and your new sewer line is too close to your proposed property line." Big sighs. We DID tell them it was for a lot split, but whatever. Not going to dwell on that. So for future reference, tie into the sewer first, then get your survey done. The department assured us that it should be fine, we'll just need to have an easement. Worst case scenario, we have to have the surveyors adjust the property lines, which I'd like to avoid considering the fact that it took them 9 weeks to draw up the survey initially.
On a positive note, I can now say the sewers are done… for now! We'll have to do another tie-in during the actual barn construction, but let's not think about that. I need a break from sewer lines! All I can say is that I've never been happier to have a lumpy, muddy wreck for a yard. That post-apocalyptic landscape is a beautiful sight to behold for someone desperate for progress!

As for the rest of the sub-steps in Step 1 – we already had the surveyor come out, so we have the property lines drawn up. We're in the process of getting the deed in order, which is the last thing we need before we submit our application to the County Department of Planning Services. Then once the split has been recorded, we're done… with Step 1.
More on Step 2 – the actual renovation plans – coming up next. We're super close to wrapping up on those too, so I should have lots to share in upcoming posts!