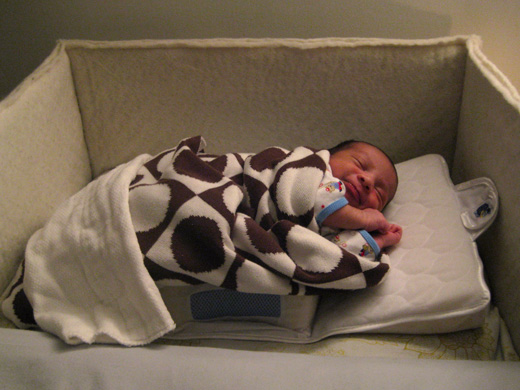 Ever since we posted about our co-sleeper, over the past year we've been receiving emails from readers looking to build something similar. Some people have even asked if we had thought about making them and selling them. We don't have any plans of selling them for two reasons:
1. It doesn't feel right. We based our co-sleeper on the Culla Belly design and it doesn't feel like it's our idea to sell.
– and –
2. Ideally, every one we make would have to be custom fitted to the bed it's going to attach to and to the baby it will hold. It's just not a construction that lends itself to mass production (at least with the materials and methods we are using). Maybe that's why the Culla Belly has yet to be produced.
With that said, we are in the process of trying to put together a guide of sorts on how to make one yourself. It won't contain any specific dimensions because everyone's bed set up is a bit different. But the guide will lay out the things to consider and the options you have when building it yourself. Hopefully we'll be able to get this together in a timely manner!
One last note. We are happy to share our process and make recommendations, but in the end it will be up to you to make sure it's safe and secure for your baby.
Stay tuned…
-c.
Tags:
Baby
,
Family
,
Living/Working Space
,
Woodwork