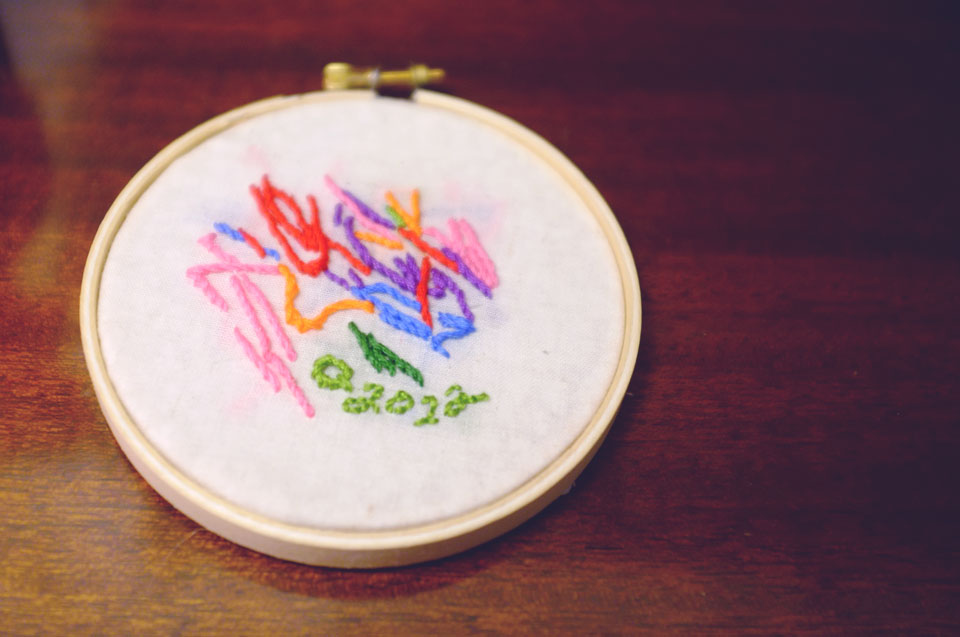 We love encouraging our kids to be creative, especially when it comes to gifts. They are still so young so many of these gifts are collaborations between parents and kids, which I love! One day, they won't need my help. But I'm hoping they will still want it!
Quil draws or paints almost every day, so we always have a ton of paper with drawing and marks on them. So, I decided to take it up a notch and create something special together by helping him turn a drawing into an embroidered piece of art. The picture above is what we made for Quil's Grammy last Christmas. Excuse the terrible embroidered text on there that is supposed to say "Q 2012" but looks more like "2022" ha!
Mind you, this is not a completely novel idea. Just search "Embroidered Kid Art" on Google and you will come up with endless posts. A lot of them involve transferring from paper to fabric, but I just had Quil draw directly onto the fabric. Maybe if your kid is older and makes really detailed and clearly representational images, it would be best to start with paper so they have more control, but Quil is still in the scribble phase, so directly on the fabric works for us. Or if you have an image they already created and love and think is worthy of saving in embroidered form, transfer is obviously the way to go.
Color, line and shape were the things I followed when embroidering over his marks. It's a simple concept, but we learned a thing or two after our first try. (more…)