Banana Cocoa-Nut Smoothie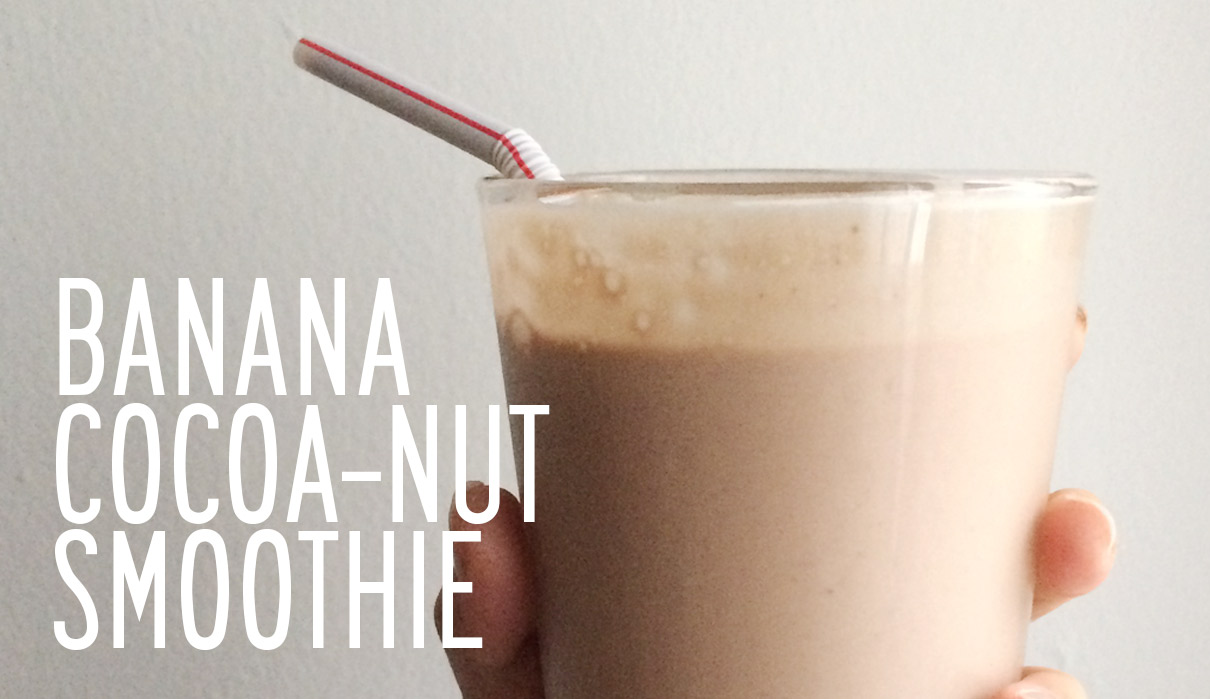 The most complicated thing about this smoothie is trying to figure out what to call it. You would think it would be based on its most predominant ingredient (which would be banana) but just calling it a banana smoothie didn't seem right since that's more of the base than anything, plus there's a fair bit of coconut. But Banana-Coconut-Cashew-Butter-Cocoa Smoothie just doesn't roll off the tongue. So here we are with my recipe for a Banana Cocoa-Nut Smoothie (see what I did there? ha!)
I've tried many, many iterations of this before I finally wrote it down. Like most Filipinos who cook, I would just throw things in and adjust as needed. So, every time it was slightly different. Finally, after a batch that was a bit heavy on the cocoa, Andrew, who is the master of recipe tinkering, said "write it down already!" – and I did and now I have my go-to ratios that I'm sharing with you today!
I should note that this recipe has no added sugar and no dairy. After my adventures in the Whole30, I've noticed that I feel much better without an excess of dairy in my life and when I eat too much sugar my face and neck puff up until my head area resembles a perfect sphere. Not a good look. So, this is a little way of indulging in something sweet and creamy without having to worry about such things. Plus, despite the lack of ingredients that make things extra delicious, the kids absolutely love this smoothie and ask for it as a treat, which I'm happy to indulge them when the ingredients are this simple.
Ingredients:
3 frozen bananas
1/2 can of canned coconut milk (full-fat)
2 tablespoons nut butter (cashew or almond) – ensure the brand you buy does not include sugar!
1 tsp cocoa powder
1/4 tsp vanilla
dash of cinnamon (optional)
Instructions:
Put all ingredients in a blender, blend on high until smooth. Makes a 16 oz serving.
I always have a stash of frozen bananas in the freezer. If you buy a bunch and they start going bad before you can eat them all, just peel them and throw them in a freezer bag and into the freezer. Note: peel them beforehand! One time, in my haste I froze a couple with their peels and trying to peel them after the fact is not worth it, my friend.
If you have trouble blending frozen bananas, you can chop them up before you put them in. My blender has one of those tamper (terrible word) things to push down the ingredients, which is helpful.
For canned coconut milk, I prefer Native Forest Organic Coconut Milk Classic because the can has a BPA-free liner. I buy this stuff by the case, just FYI ;)
For nut butters, I like Once Again nut butters. Their products do not include sugar and their company ethos is one I can get behind. (If you're local to me, you can get it at Giant Eagle and Mustard Seed.)
Enjoy!
Tags:
Food