Paleo Cocoa Almond-Butter Truffles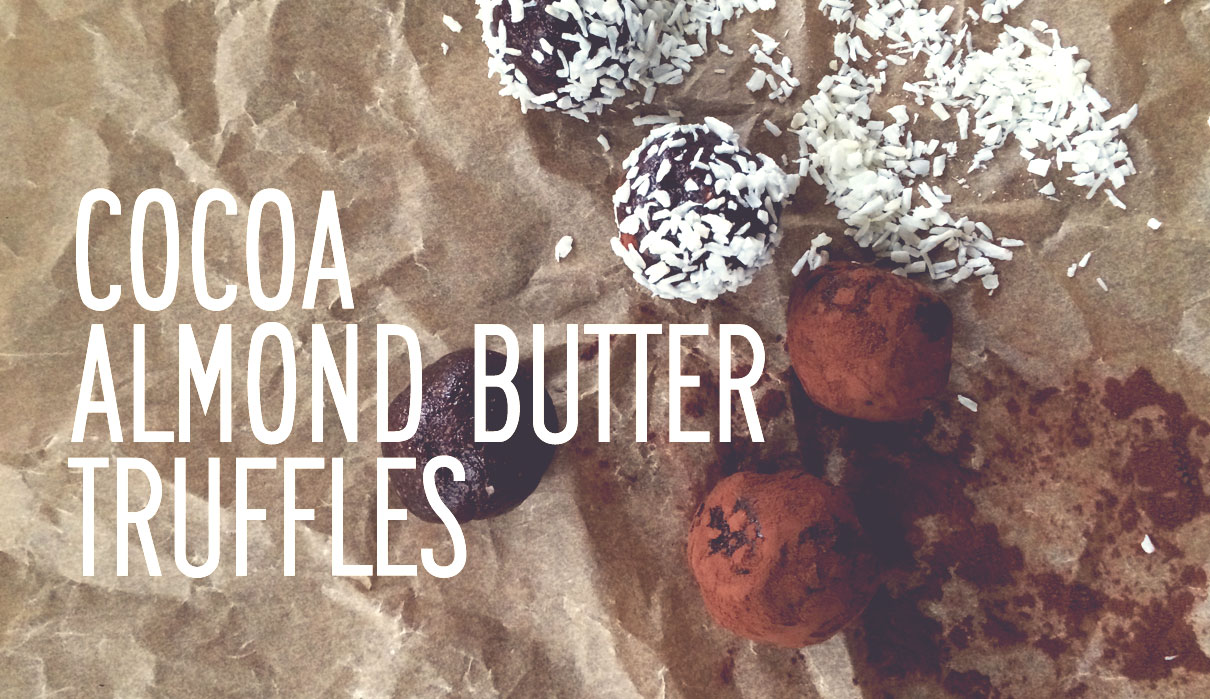 Ever since completing my first Whole30 back in August, I've been working on perfecting this paleo recipe and after many batches, it's finally ready! These Cocoa Almond Butter Truffles are not only delicious, but paleo approved – dairy free, gluten free, vegan and have no added sugar. And despite the fact that sweet treats are discouraged on the Whole30, if you take out the vanilla, all these ingredients are Whole30 compliant. Seems impossible, right? But I assure you they are good. My kids love them (the true test) and they are super simple to make too.
(I'm going to apologize in advance for the lack of photos for this recipe. I've been meaning to take some in-progress shots, but literally have not had any time. If I ever do, I'll be sure to update this post.)
Ingredients:
4 oz dates
1/2 cup almond flour
1/2 cup almond butter (the kind with no sugar added, the ingredients should only list almonds!)
1 tsp vanilla (if you're on the Whole30, you can omit this ingredient to stay compliant)
2 tsp shredded coconut (unsweetened) + extra for rolling
1 tsp cinnamon
3 tsp cocoa powder + extra for rolling
pinch of salt
Instructions:
Pit dates (if they aren't already) and soak in near boiling water for roughly 10 minutes to soften. After the dates are done soaking, scoop dates out of the water and put them in food processor. Set liquids aside to use in case your mixture is too dry. Blend dates until a paste is formed, if the mixture seems too dry to blend, add in a bit of the liquid leftover from soaking the dates. I find the perfect consistency is a little translucent and on the wet side.
Add almond flour to the date paste in the processor and blend until combined.
Add rest of the ingredients to the processor and blend until smooth, if it seems a bit too wet, add in small amounts of almond flour. If it seems too dry, add in a little of the liquid from the date soaking. The mixture should be sturdy enough to be rolled into balls and hold their shape, but still somewhat moist so when rolled in shredded coconut, it will stick. You'll have to do a bit of experimenting here to find the right balance. (But just a note that either way, they will still be delicious!)
After blending all the ingredients together, pop the entire processor bowl into the freezer for 10 minutes or so to chill the mixture. This helps when rolling, especially if your mixture is on the wetter side.
When ready, roll into inch-sized balls. You can make them whatever size you want, but I usually store mine in the freezer so I can just grab a couple when I'm feeling the need for a sweet treat and this is a good size for that!
After forming the balls, you can experiment with rolling them in different ingredients. I've used unsweetened shredded coconut or more cocoa powder, but you could also try chopped nuts or other spices if you're feeling adventurous.
I prefer these chilled, but they are also good at room temperature. If you give this recipe a try, let me know. I'd love to see how yours turn out.
*UPDATE* 12-hours after I initially posted this, I realized that Kathleen posted almost the same exact recipe on her blog over two years ago! I must have subconsciously re-wrote her post not realizing it, so you should definitely head over to Design Crush and check out her recipe too which she spices up with cayenne!
Tags:
Food
,
Whole30