Tips for Tapping Maple Trees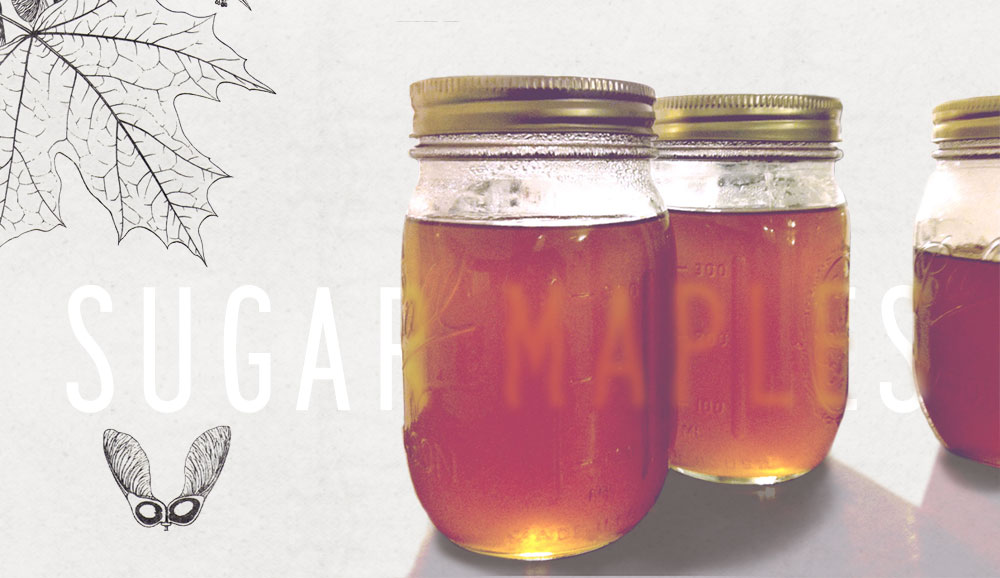 It's that time of the year again. When temperatures start reaching above 40 degrees during the day, but going back down below freezing at night, you know it's Maple tapping season. We put the taps in this week and so begins our second year of tapping.
Last year we tapped the two huge maple trees in our backyard on a whim. I came across the post on Simple Bites where Aimee and Danny tap their trees with their kids and I was struck by how simple the process was. Put taps in the trees, collect sap, boil. Simple as that, though our process could definitely use some refinement. After only tapping for one year, we are hardly experts, but we did make enough maple syrup last year to get us through most of the winter (we just finished our last jar, but had to ration it towards the end) and are trying out a new boiling method this year. You don't need any fancy gear, as last year proved. We boiled our sap in a large stock pot over a fire. It took many, many hours to do it this way, but it still worked. This year, we decided to take it up a notch because thats what we do! I plan on doing a post around our process this year, once we've got at least one boiling session under out belt so I can report on how our new set up is working out. But in the meantime, I reached out to a family friend who has been tapping the trees around her house for years to share some tips and insights into their process.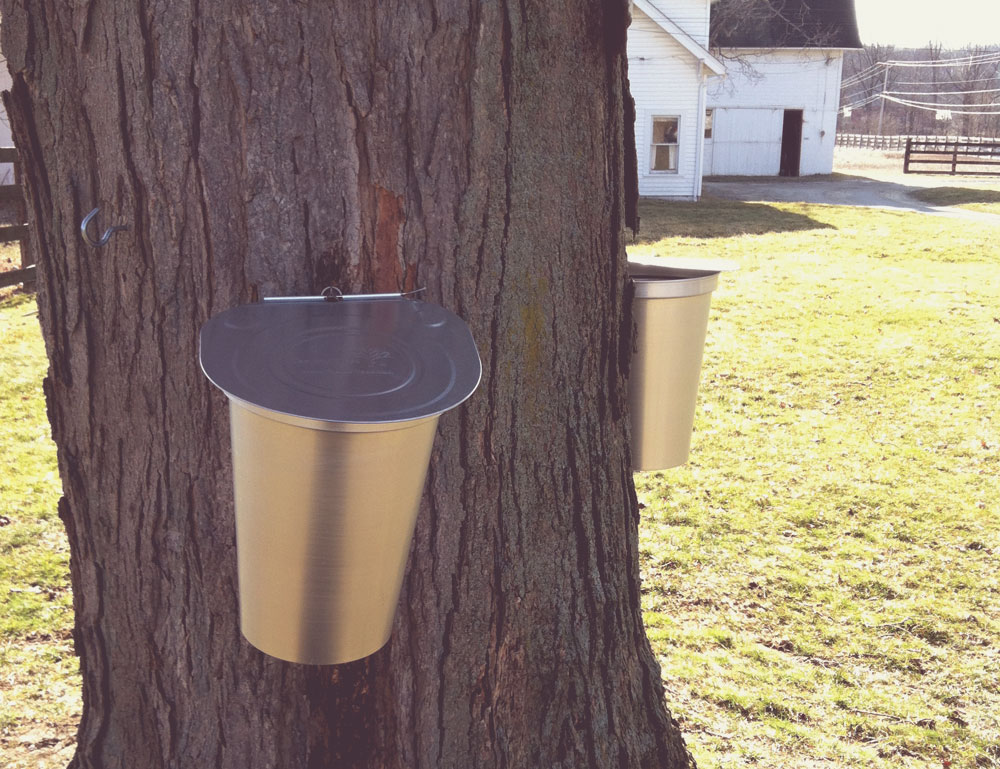 Maple Tapping with Shirley Ware
Shirley is a good family friend and former patient of my Dad (who is a family physician.) I got to know Shirley after she accompanied my Dad on a couple medical missions he organized. The first to the Philippines, then a second to Sri Lanka after the devastating Tsunami in 2004. She covered this latter medical mission for a local newspaper and took the most amazing and touching photos. I always knew of her as my Dad's photographer friend, but later when I connected with her on Facebook  I realized we had many things in common, other than a great respect for my Dad. One of which is maple tapping! Here is what Shirley had to share:
How long have you been tapping your trees and what inspired you to start?
We bought our place in November of 2000, 23 acres with about 16 acres of woods. Sugar Maples abound, so a friend that I worked with at The Gazette, asked if he could come and tap trees for maple syrup. He has done it every year and we learned from him. All together, we have probably tapped and made syrup about 7 years, there have been a couple years where we have not been in town or time just got away from us.
How many trees do you tap and how much syrup on average do you get each season?
The first year, I made about one quart and it took about a day because I was boiling in a small pot. You definitely have to pay attention to the weather and if you don't tap in time, sometimes the best weather window is lost. There have been years where we have only been able to boil a couple of times before it got warm, stayed warm and we were done. We have made as little as a quart in one season to 7 gallons one year. We tap 10 trees, my friend taps about 25. Each tree should be over 20 inches in diameter to make sure we don't damage it.
What equipment would you recommend to get started to tap your trees and what kind of equipment do you use?
A couple years after we started, I found an old evaporator in an auction for $15. I brought it home and then we had a stainless steel pan built and have been using it ever since. Equipment has changed over the years. It used to be everyone used metal buckets and spiles, but now many people use tubing. It does keep it cleaner and keeps bugs and flies from making it into the sap when the day temperatures rise. To keep things simple and to make sure the buckets don't run over, we use 5 gallon buckets that sit on the ground and tubing that runs from the bucket to the spile.
We got into tapping late in the season last year, so we only tapped for about a week and we spent the entire weekend boiling sap. What type of collection and boiling routine would you suggest for us, who are only able to boil on the weekends? How long do you store your sap before boiling?
Usually, on a good day, we might get a gallon or more of sap per tree. If the weather stays cold, or freezes, the sap will keep in the bucket for a day or more before we have to collect and boil. We try to boil 2-3 times a week if all is running well. Think of sap as milk, it is perishable but will be okay at cold temperatures. We try to have about 40-50 gallons before we boil, we pay attention to the temperatures and try to stretch it out to most weekends. If you have ice formed on the top of the buckets and the sap is cool and clear, you are good to go.
About Shirley
"I was born and raised in England and moved to the states with my family as a teen. My college studies were in the medical field but I found myself drawn to photography and found myself working for local newspapers where I eventually became the photo editor at the Medina Gazette. I love to travel and use my journalism skills of interviewing people when I'm trying to teach myself a new skill. In the last few years, my husband and I have enjoyed our home that sits on 23 acres homestead. We have a flock of chickens that roam the homestead, have honey bees that pollinate our garden and tap our maple trees in the spring to enjoy not just the sweetness of our labor but also the joy of sitting around a fire with our family and friends."
Find more from Shirley on MedinaCountyLife.com »
---
Thanks Shirley for sharing your experience and knowledge with us! Next up, a post on our process. We plan on boiling this weekend so I will surely be taking photos to share. (The photos on this post are from our tapping session last season. The jars of syrup in the top image were the fruits of our labor!)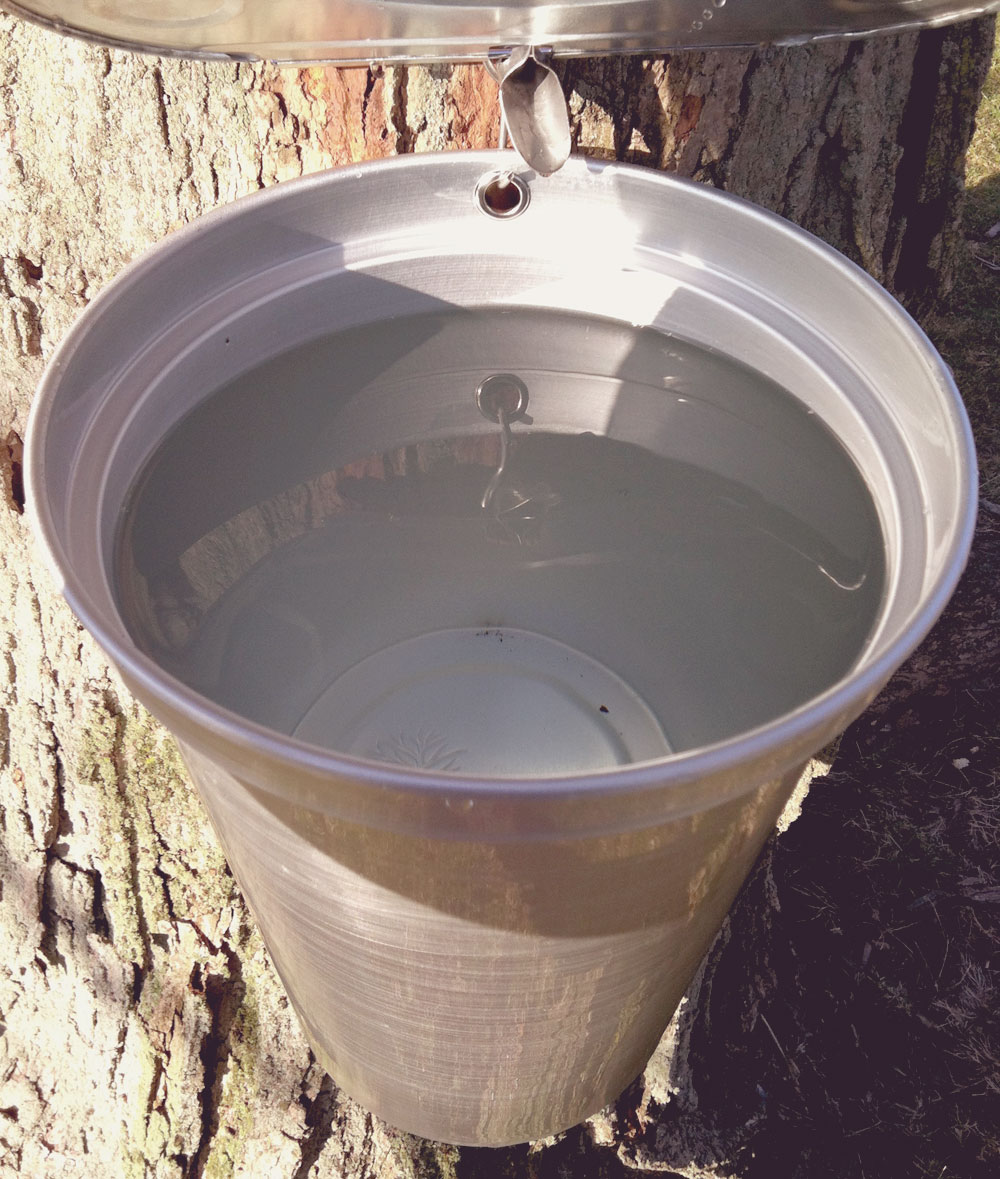 Do you tap your trees? I would love to hear about your experience and if you have any tips for successful syrup making!