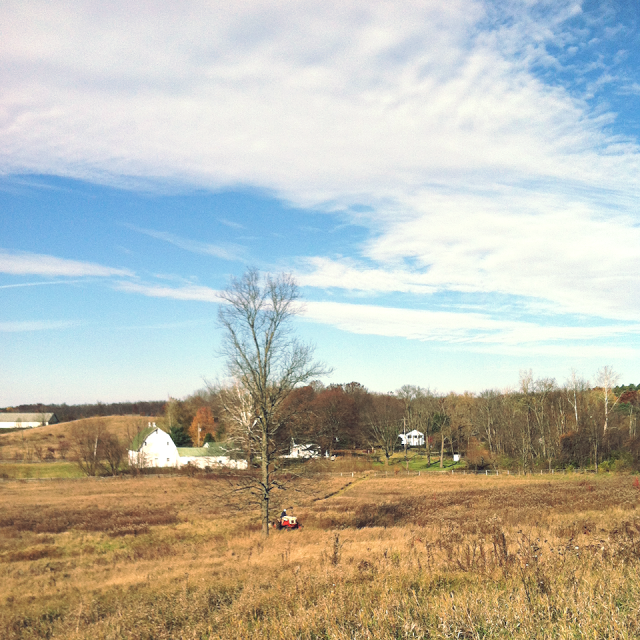 I mentioned in one of my previous posts about how I had to create an "Ideal Dream Day" for my creative coaching session, which is basically what I'm referring to whenever I talk about mine and Andrew's goals.
Our goal is to build a self-sufficient, sustainable, Permaculture-based homestead for our family. I'm putting this out there, which isn't something that Andrew and I usually do. We're both of the sort where we don't like to voice desires/wishes/plans until we feel like there is proof of being able to follow through with it. We're usually not ones to make superficial claims – the whole "say what we mean, and mean what we say" thing. Though this is really more descriptive of Andrew and less so of myself. I've been known to get dramatic and use the words "never," "ever," and "always" when things get heated. But, I try to be aware of it. Anyways, side-note!

For a long time, Andrew and I have wanted to build a home for ourselves. We just couldn't ever see us living long-term in something that was not our own. Something that we didn't get to consider every aspect of. For the amount of money it costs to own a home, we couldn't resign ourselves to having to make compromises. Of course, we're realistic. We will have to make compromises even if we build our own home, but they will be compromises of our own design. What Andrew and I want is nothing elaborate. We want something that is sensible and smart.
After all these years of dreaming, we're about at the point where being able to take action is visible on the horizon. We're still a long ways off, but it seems like a real possibility. So, in the meantime, we're doing what we can to research and learn about what it will take to build our homestead. Getting smart, as I said in a previous post.
I'm looking forward to sharing what we learn here! Any advice or tips from those of you who are out there building your own or have built your own homestead are welcome.
Coming up, I'll talk more about the "Ideal Dream Day" that I came up with for my coaching session. It's, dreamy to say the least!
Above is an image our backyard at the place we currently live. Pretty dreamy to wake up to everyday. That's our house directly to the right of the barn, slightly obscured by the tree. (Not the house on the far right.)
xo,
c.
Tags:
Country Living
,
Creative Coaching
,
Family
,
Inspiration
,
Living/Working Space
,
Self
,
Stories
,
Sustainability