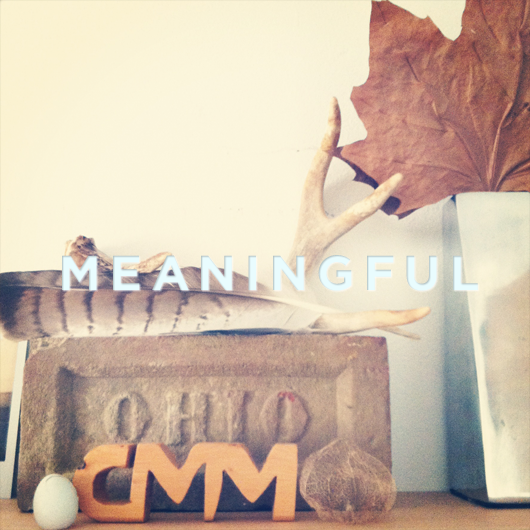 [Instagram photo I took of things that inspire me]

With the zombie apocalypse forever on the horizon, my sister, Maria, and I have already decided on our rendezvous point if such a thing should ever occur. Obviously, we say this all in good fun. But it actually got me thinking about things… 
At night, laying in bed, I've been thinking: What if some sort of catastrophic event were to happen near us? What would we grab before we made our mad dash to our "rendezvous point? I've thought about this multiple nights in a row, always considering things like, "maybe we should grab all our shoes, because those things will wear out quick when you're constantly on the move." or "I should probably grab my supply of frozen breast milk just in case something were to happen to me, Andrew would be able to feed Ellis." Finally, one night I turned to Andrew and asked him what he thought. And his answer was simply: "the kids." Which then got me thinking more…
So with this new year upon us, and everyone high on the prospects of new beginnings and resolutions for the year to come, I've decided to jump on this ol' bandwagon and make a couple of my own.
My first "resolution" is based on Andrew's simple, honest, and sensible answer to my nonsensical question. This is the year that I really start taking a hard look at the things that matter and only accumulate/consume/surround myself with things that are useful and inspirational. I hesitate to use the term "minimal" because it doesn't really fit me, rather I'm going to lean towards the term "meaningful." I'm tired of thinking about things and stuff and where it goes. Or where it will go in the future. I give up on meaningless stuff!
Which leads me to my next resolution: To be more present and, ultimately, more patient. With myself, with Andrew, with the kids, with the pace of our lives, and with all those things I see on the horizon but can't quite make out clearly. I don't know how many times I've said to Andrew in the past, "I feel like we're always waiting. When do we get to start our lives?" – to which Andrew always replies, "We already have!" And he's right. So this year, I resolve to stop waiting.
Oh and to blog more :)
What are you resolving to do this year?
-c.
Tags:
Family
,
Holiday
,
Inspiration
,
Self