Natural Beauty Product Round Up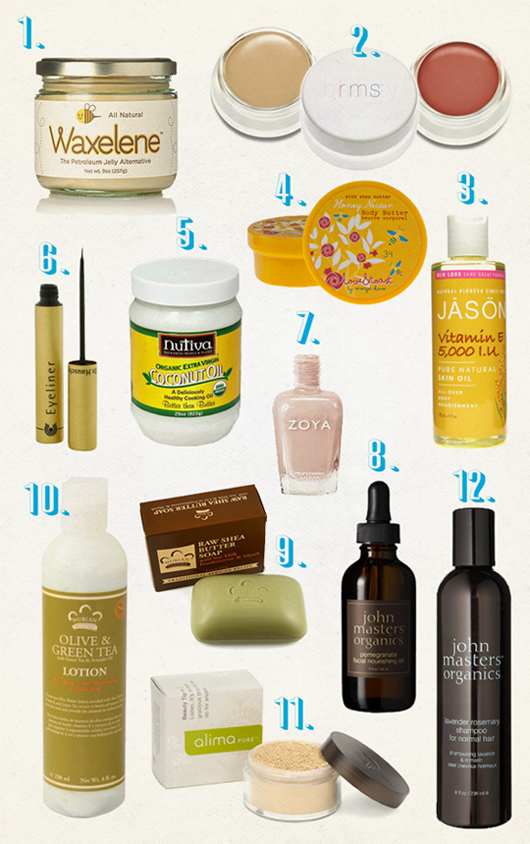 So, as a follow up to my previous post on the DIY "Deo for Your B.O.", I figured I'd do a little round up of natural beauty products that I've used recently.
So, just a couple things about me personally. I normally don't wear a ton of makeup. I prefer a dewy look to my skin, rather than a matte look. I'm really into moisturizing for fear of getting a wrinkly neck. And I'm almost positive that chapped lips run in my family.
1. Waxelene – This has been my lip balm of choice for a little while now. But I've also been known to slather it on like lotion when in a bind. Andrew uses it on his entire body (good thing it comes in a huge jar) because he's got really bad eczema and uses this when he needs to break out the heavy artillery. It's a great, natural alternative to Vaseline. My only complaint is that it doesn't smell super great. It doesn't smell bad, but it has a distinct smell to it.
2.) RMS "Un" Cover Up & RMS Lip2Cheek – I love how creamy these two products are. They cover without making you look like you have a ton of makeup on.
3.) JASÖN Vitamin E Oil – I've used this on my face and body and never had any problems with breakouts. It has a nice scent and doesn't make you look greasy, like you would imagine slathering oil on your face would do. I also use this to cleanse my face. I rub an excessive amount all over my face like you would with a normal cleanser, but instead of washing it off I wipe off the excess oil with a tissue/soft cloth and all the dirt and stuff comes off with it.
4.) Love & Toast Honey Nectar Body Butter – This is a new acquisition for me and it's not heavy in rotation. I mainly got it because I needed a moisturizer that I could carry around in my purse because I hate driving to work with dry hands! I had been using the Waxelene in such situations, since I always have a little container of that in my bag, but again, the scent wasn't ideal. This stuff smells great!
5.) Nutiva Organic Extra Virgin Olive Oil – We started using coconut oil when Andrew read somewhere that it was really good for eczema (which I'm sure works for some people, but didn't really do much for Andrew's extreme case) but I really like it as a light moisturizer. This is also what we used in our "Deo for Your B.O." from our last post. Another thing that it's great for is baby moisturizer. It's not super greasy and you can rest assured it safe for their sensitive skin.
6.) Dr. Hauschka Liquid Eyeliner – Like I said, I don't wear much makeup. But I HAVE to wear liquid eyeliner. It's the only thing that stays put on my oily, Asian eyes. I swear. That being said, this eyeliner is okay. I find that I still have to do a lot of prepping to get it to stay put. But I'll deal with that rather than use something that stays on longer, but has bad stuff in it.
7.) Zoya Natural Nail Polish in Avery – I wish wish wish I could have perfectly manicured nails all the time. However, it's just not possible for me. Too much time and money that I don't have to spare. Plus, the more I read about nail salons and the chemicals they use and the chemicals in non-clean nail polishes the more I think it's best to just do it myself. This polish works great and doesn't seem to last any longer (or shorter) than it's non-clean counterparts. I'm considering this color and this color too because I'm really into just having neutrals on hand when I'm feeling the urge to get fancy.
8.) John Masters Pomegranate Facial Nourishing Oil – I'm really into using oils on my face. It seemed crazy and scary at first, but then the more I read and thought about it the more it started to make sense. I always thought that I had oily skin. Turns out that I have dry skin! My skin was just overproducing oils to compensate for the fact that it wasn't properly being moisturized. Now that I use oil on my face, I never get greasy/shiny.
9.) Nubian Heritage Raw Shea Butter Soap – This is also a new acquisition for me. I've tried a few Nubian Heritage products and have been pleasantly surprised every time. When I first bought, I was worried that maybe it was too manly a scent, but I've found that it's really subtle and I don't smell like a man at all (or at least no one has said I do!)
10.) Nubian Heritage Olive & Green Tea Lotion – Okay, so I've been saying how much I love oils and such. But sometimes, I just want to put some fancy smelling lotion on my elbows. So, sue me! One thing about this lotion is that it is VERY VERY thick. And sort of hard to get out of the bottle. It's more like a cream and probably should be packaged in a tub rather than a bottle. There is no way you are getting every last drop out. You'll have to cut that sucker open. Which I plan to do.
11.) Alima Pure Satin Matte Mineral Foundation – I used Bare Minerals forever but then for some reason (maybe the pregnancy?) it started to dry out my skin. Plus, I could never find the perfect shade for my skin tone. Alima Pure has A MILLION shades and you can order samples to try before committing to one shade. I think I ordered like 10 of them or something crazy. I prefer to mix it with my face oil to make it more like a liquid/tinted moisturizer rather than apply it just straight as a powder. I like the coverage better and plus I can kill two birds with one stone.
12.)  John Masters Lavender Rosemary Shampoo for Normal Hair – Natural shampoos were one of my first forays into "clean" products. I remember my college roommate telling me how chemicals were absorbed through our scalps and that freaked me out. Scary facts aside, one of the best things about switching to all natural shampoos has been the fact that my hair hardly ever gets greasy. I used to have to wash my hair every single day or risk getting a bad case of the greasies. But now I can go 3 or 4 days without washing my hair! Yes, I go 3 to 4 days without washing my hair.
Only after I did that fancy photo collage above, did I realize that I forgot a few others so I'll post about those another day. Plus, this post is way too long and I'm positive no one is reading at this point. Bonus points if you made it this far.
Without sounding too preachy, I know some of these things are pricey. Hell, all of them are pricey if you are used to buying drugstore cosmetics these days. But I think it's worth the investment to live healthier even if it means just switching out one of your products for a clean one. Less chemicals is always better. Anyone else have products they recommend?
-c.
Tags:
Self
,
Sustainability
,
Wearables