Yearly Portaits of the Grandkids
I totally forgot that I never posted about this! Most likely because it happened during the worst drought of blogging that we've had yet. Slowly, things from that period are coming back to me that I wanted to post about but never got to.
Around Thanksgiving of last year my family decided that we wanted to start taking yearly photos of all the Grandkids. We figured Thanksgiving is really the most reliable time to take the portraits since we are all together. My brother, Tom, was the one who had the idea of taking the portraits and how they should be shot (he also handled the color correcting of the pictures.) Between my brother and I we tag teamed taking the photos and making sure the lighting was sufficient. With the help of sisters and husbands and grandparents we were able to wrangle this gang long enough to get decent shots.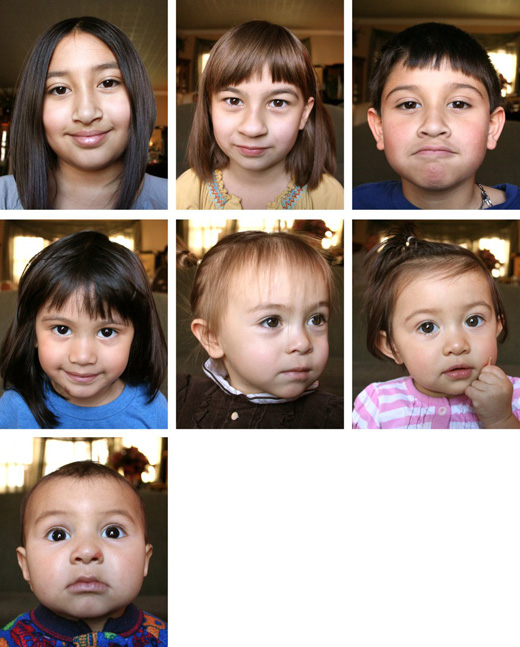 I think they turned out really beautiful (though I am bias) and really show the personality of each kid. Falcon with his boyish, yet silly attitude (top row, far right). Arwen with a bruise on her chin (middle row, far left). Q looking like a deer in headlights with a cut on his nose. This year we'll be adding another portrait of my sister's new baby, Sofie, who was born in April.
Hooray for growing!
-c.
Tags:
Baby
,
Family
,
Holiday
,
Photography