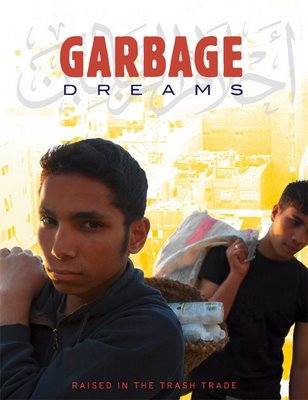 If you have a chance, you should see this documentary. You can find out more information about it here. We were fortunate enough to have seen this movie two weekends ago at the 33rd Annual Cleveland International Film Festival.
It's a documentary about a community and what happens to when its livelihood is threatened. It takes place in Cairo, a city of 8 million people with no official garbage collection service. For decades, the Zabbaleen, a community of about 60,000 people, have become the unofficial garbage collectors of the city. They've made their living collecting and recycling the trash of the residents of Cairo. But in more recent years, they've had to compete with foreign garbage collection companies contracted by the government to do the job they've built their lives on. The film focuses on three young Zabbaleens and follows them as they "come face to face with the globalization of their trade."
"Each of the teenage boys is forced to make choices that will impact his future and the survival of his community."
It's a fascinating film, not only the overall story but the boys have such character it's hard not to find them endearing.
–c.

Tags:
Activity
,
Film
,
Places
,
Stories