The Salad Trifecta: Goat Cheese, Dried Figs & Candied Walnuts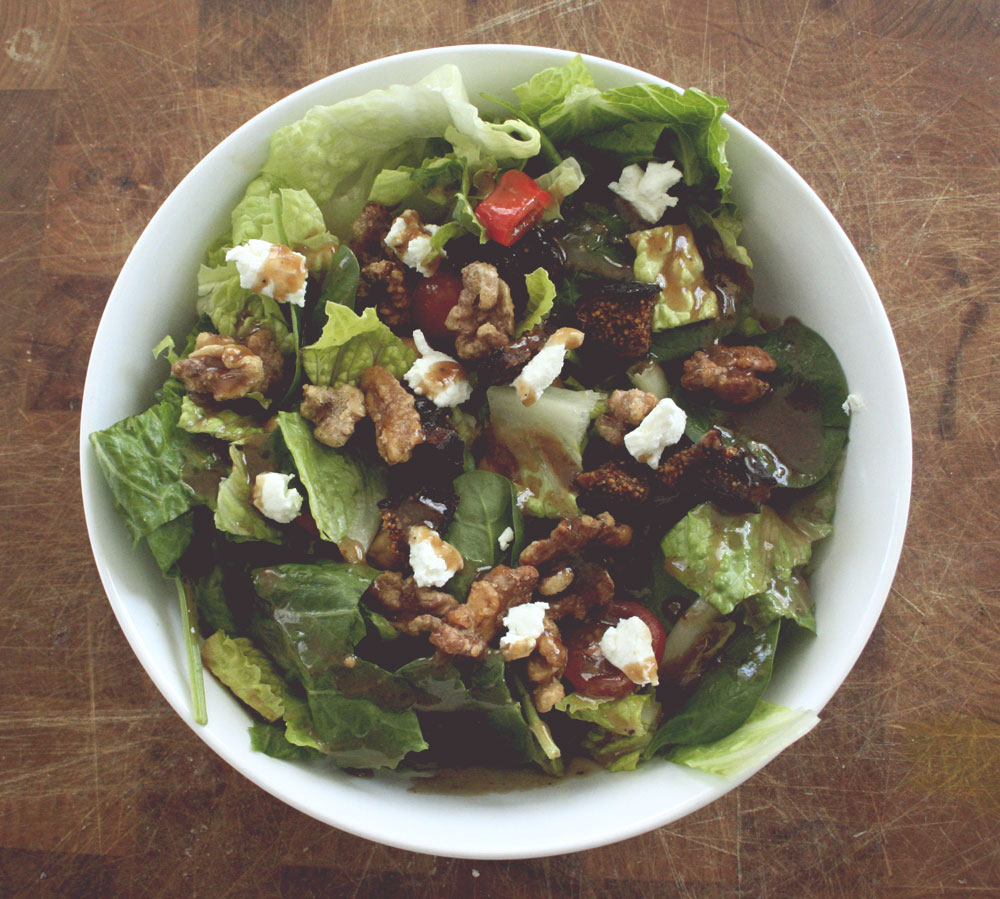 I think I'm on to something. Recently, at Dewey's Pizza (a local pizzeria) I had the seasonal Harvest Salad that has a soft cheese, candied walnuts and figs as three of the ingredients. And it was amazing. It inspired me to mix things up when it comes to salads, since I fall into the rut of making the same one over and over, then getting sick of it, then not having any desire to eat salads.
So as the title of this post reveals, the three things that have been taking my salads to a new level lately are: Goat Cheese, Dried Figs and Candied Walnuts.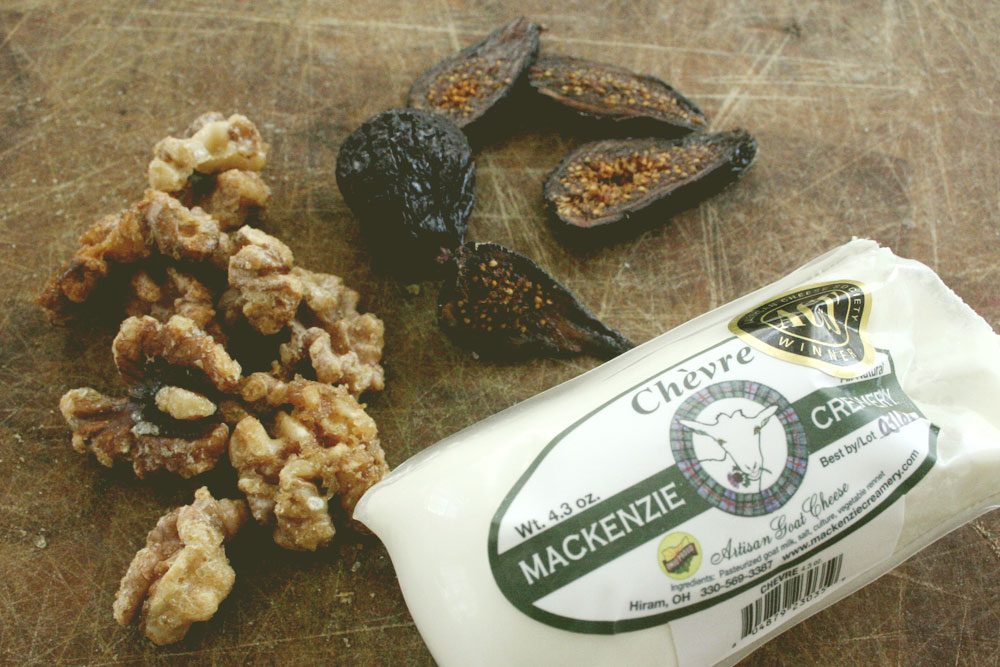 Goat Cheese
I decided to give goat cheese a try because I remember really liking it on a salad that Amy over at Kitchen Moments makes occasionally with roasted butternut squash. The chevré that I use is from Mackenzie Creamery, made right here in Ohio, about an hour drive from where we live.
Black Mission Figs
The figs are dried organic black mission figs that we got at Mustard Seed Market. My hope is that next year we will get a big enough harvest from our fig tree to be able to dry some of our own! Super fancy.
Candied Walnuts
For the candied walnuts, I used a recipe found over at the blog Chinese Grandma (link below). Also on that same blog is the recipe for my absolute favorite Balsamic Vinaigrette Dressing ever, which I use on my Goat Cheese, Dried Fig & Candied Walnut salads. Andrew has some grand plans to eventually harvest black walnuts from our trees out back. I wonder if anyone has ever tried candied black walnuts?! Now we're cookin'! I'll keep you posted if that ever happens.
I feel like I stumbled upon the trifecta of salad fixings. This combination is probably old news to foodies around the world. But it's new to me because I have a newfound love affair with goat cheese. I'm not a cheese person in general. I never have been and it's been a long road to acquiring a taste for it. Or maybe, as my husband Andrew likes to say, I'm developing a sophisticated palate. He enjoys joking that my love for milk chocolate is unrefined, saying it's "for children" because he thinks dark chocolate is superior. Maybe the fact that I like goat cheese means I'm growing up! Finally! Or not.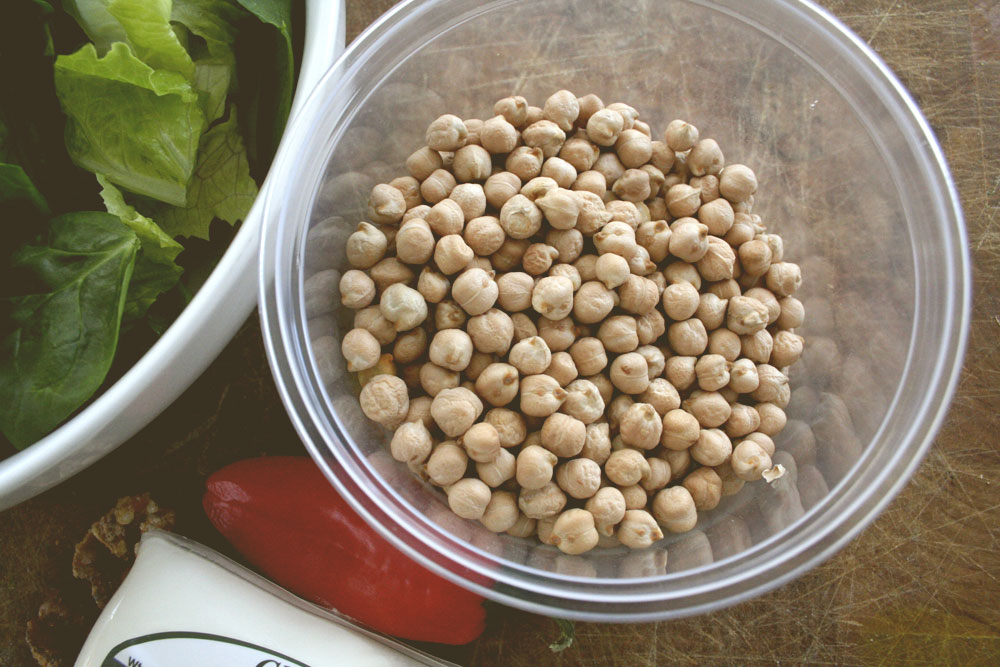 I feel like you can throw anything else in with these three ingredients and it would be great. This version of the salad in the photos also has organic garbanzo beans (pictured above, the dried kind that take a million years to make because you have to soak them and boil them), as well as sliced cherry tomatoes and sweet peppers – the small ones that you can't stop eating at parties. I only had romaine and spinach on hand when I made this salad, but I can assure you that it's even better with mixed greens.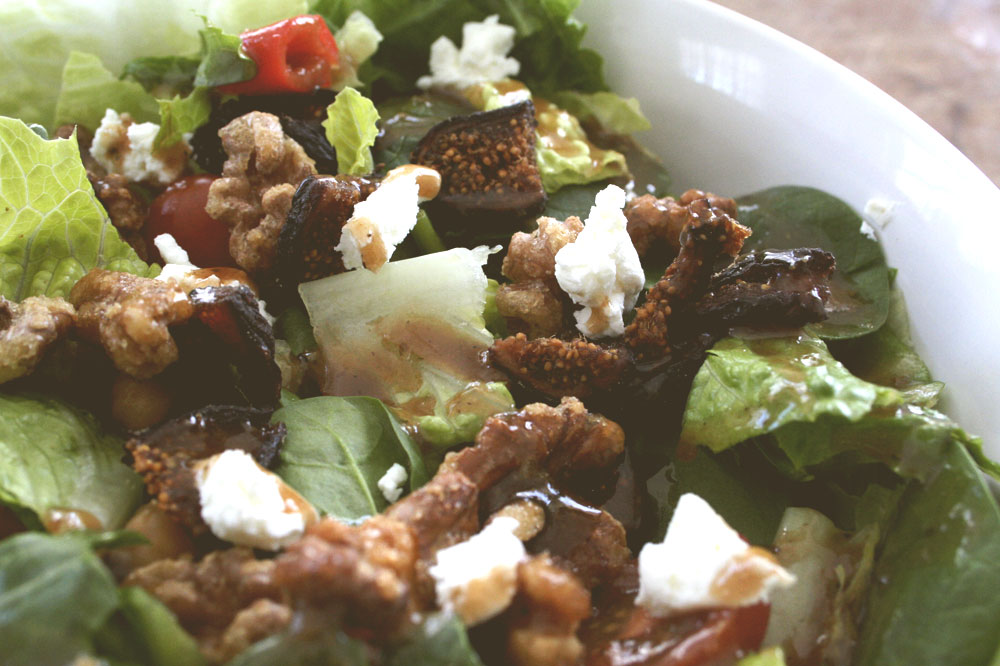 Give it a try and let me know what you think!
And one last bit of inspiration – almost everything in this salad can be grown and raised in your backyard or somewhere very close to your home (if you live in Ohio, like us. And probably even more so in other climates!) Salad greens and spinach are some of the easiest things to grow. Tomatoes, peppers and figs too can be grown in Ohio and goats obviously can be raised or easily found from a local source. I'm not familiar with growing garbanzo beans, but from the small amount I read, it IS possible to grow them in Ohio with the right timing. Eating organic is good, but eating local is even better. Eating local organic is the best!
xo,
c.
Tags:
Eat Local
,
Food
,
Garden
,
Organic
,
Slow Food